Celebrate Waupun 2023
Celebrate Waupun 2023 Schedule
ALL 3 DAYS: WILD WORLD OF ANIMALS AND THE A&P CARNIVAL!
Fri. June 24th. Opens at 4:00pm
4 pm - 11 pm A & P Carnival
4 pm - 8 pm - Friday Fish Fry, Sponsored by Fox Valley Savings Bank.
4pm, 6pm, 8pm Wild World of Animals Presentations
6 pm Firefighter Water barrel fights. (Waupun and Surrounding Departments)
Horicon Bank Main Stage
5:00 pm – 7:15 pm – Acoustic Grove
8:00 pm – 11:00pm - Boogie & the Yo-Yo'z
Sat. June 25th. Opens at 12:00pm
12:00pm – 11:00 pm - A & P Carnival
12:00pm – Celebrate Waupun Bags Tournament benefiting Waupun Hockey Association.
1:00pm, 3:00pm. 5:00pm: City of Waupun Sculpture Tours. Sponsored By Destination Lake Winnebago Visitors Bureau
2pm, 4pm, 6pm Wild World of Animals Presentations
Horicon Bank Main Stage
3:00pm – 4:45pm: Russ Reiser
4:45pm – 6:45pm : Big & Tall
8:00 pm - 11:00 pm The Glam Band
Sun. June 25th. Opens at 12:00pm
8:00am – 4:00pm: Celebrate Waupun Car Show (Harris Mill Park)
12:00pm to 11:00 pm - A & P Carnival
1:00pm Kiddle Pedal Pull. Sponsored by Ballweg Implement & Ballweg Turf & Leisure
2pm, 4pm, 6pm Wild World of Animals Presentations
3:00pm Marsh Haven Monarchs & Milkweed
Horicon Bank Main Stage
11:00am - Celebrate Waupun Community Worship
1:00pm – Celebrate Waupun BIG BINGO
2:30pm – 4:00pm Bob Viking Family Fun
4:30 pm - 6:30pm The Characters
7:00 pm – 9:30pm Take it Easy
9:30 pm – National Exchange Bank and Trust and the City of Waupun Fireworks Show
A&P Carnival
Advanced Sale Wristbands, sponsored by Eagle Flexible Packaging, are $50 and are on sale at Waupun's Piggly Wiggly and hometowntickets.com (After May 1)

Advanced Sale Wristbands end on Thursday, June 22

Wristbands are $75 at the Gate
WAUPUN FESTIVALS 2023 SPONSORS
CITY OF WAUPUN
HOMAN AUTO SALES
HORICON BANK
NATIONAL EXCHANGE BANK AND TRUST
SSM HEALTH
TACO BELL
BALLWEG IMPLEMENT
EAGLE FLEXIBLE PACKAGING
W&D NAVIS
FOX VALLEY SAVINGS BANK
MIKE'S WILD BOAR LIQUOR STORE
WESTPHAL'S PRINTING AND GRAPHICS
DESTINATION LAKE WINNEBAGO REGION
A GLEWEN EXCAVATING
THE ROCK OF WAUPUN
SIA INSURANCE
TENNECO
GRATEFUL FOODZ
O CONNOR WELLS AND VANDER WERFF
BUG TUSSEL WIRELESS
WERNER HARMSEN FURNITURE
DENTISTRY OF WISCONSIN
SAPUTO CHEESE
SENIOR EXPO COUNCIL
WAUPUN EQUIPMENT
BROOKS SHOES AND REPAIR
SAM'S WELL DRILLING
BENTZ AUTOMOTIVE
RADIO PLUS (THE SOURCE, SUNNY 97.7
96.1 FM THE ROCK, THE GREAT 98)
ENVISION GREATER FOND DU LAC
WAUPUN AREA SCHOOL DISTRICT
WAUPUN ROTARY CLUB
MARIA'S RESTAURANT OF WATERTOWN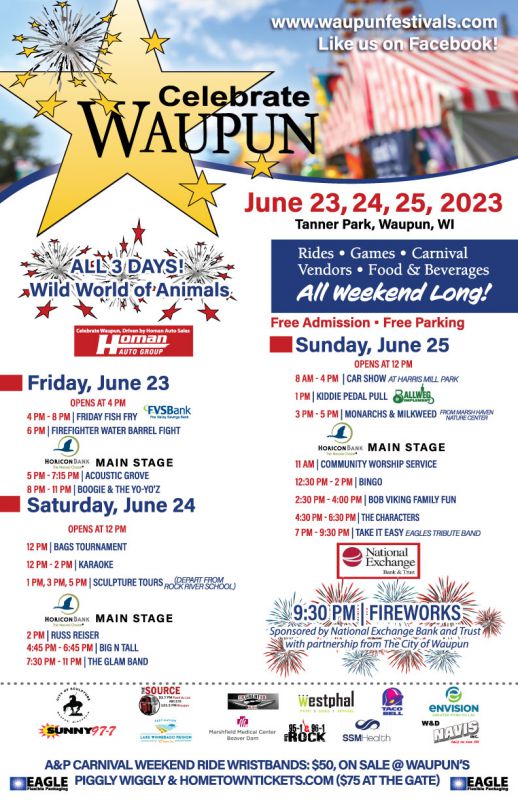 General Donation Opportunities
Waupun Festivals gratefully accepts donations of any monetary value. Donations may be sent to the following address:
Waupun Festivals, Inc
PO Box 507
Waupun, WI 53963
OR
You may donate online by clicking here!
Waupun Festivals is part of the Beaver Dam Area Community Foundation.
If donating online with this link, please note your donation goes to the "Waupun Festivals Fund"
Credit card gifts are assessed a small processing fee.
---
Waupun Festivals, Inc is a tax exempt charitable organization under section 501(c)(3) of the Internal Revenue Code. Contributions are deductible under section 170 of the Code. Waupun Festivals, Inc. is qualified to receive tax deductible bequests, devises, transfers or gifts under section 2055, 2106 or 2522 of the Code.
Thank you for supporting our efforts in making the Waupun community a great place to visit, live and do business!