Support Waupun Festivals
WAUPUN FESTIVALS 2022 SPONSORS
CITY OF WAUPUN
HOMAN AUTO SALES
HORICON BANK
NATIONAL EXCHANGE BANK AND TRUST
SSM HEALTH
REAL SPORTSCARDS OF WISCONSIN
MARSHFIELD MEDICAL CENTER-BEAVER DAM, WAUPUN CENTER.
EAGLE FLEXIBLE PACKAGING
EDWARD JONES OF WAUPUN
TACO BELL
BALLWEG IMPLEMENT
W&D NAVIS
FOX VALLEY SAVINGS BANK
MIKE'S WILD BOAR LIQUOR STORE
WESTPHAL'S PRINTING AND GRAPHICS
DESTINATION LAKE WINNEBAGO REGION
A GLEWEN EXCAVATING
AMERICINN OF WAUPUN
SIA INSURANCE
TENNECO
THRIVENT FINANCIAL JON LEONARD
SNOW LAW
O CONNOR WELLS AND VANDER WERFF
BUG TUSSEL WIRELESS
WERNER HARMSEN FURNITURE
DENTISTRY OF WISCONSIN
WAUPUN FINE ARTS
SAPUTO CHEESE
STOBB PLUMBING AND HEATING
SENIOR EXPO COUNCIL
WAUPUN EQUIPMENT
BROOKS SHOES AND REPAIR
SAM'S WELL DRILLING
CHURCH HEALTH SERVICES
BENTZ AUTOMOTIVE
RADIO PLUS (THE SOURCE, SUNNY 97.7
96.1 FM THE ROCK, THE GREAT 98)
CENTRAL WISCONSIN CHRISTIAN SCHOOL
WAUPUN AREA SCHOOL DISTRICT
WAUPUN ROTARY CLUB
WAUPUN KIWANIS CLUB
C BRAAKSMA ELECTRIC
MARIA'S RESTAURANT OF WATERTOWN
YAISH OF BEAVER DAM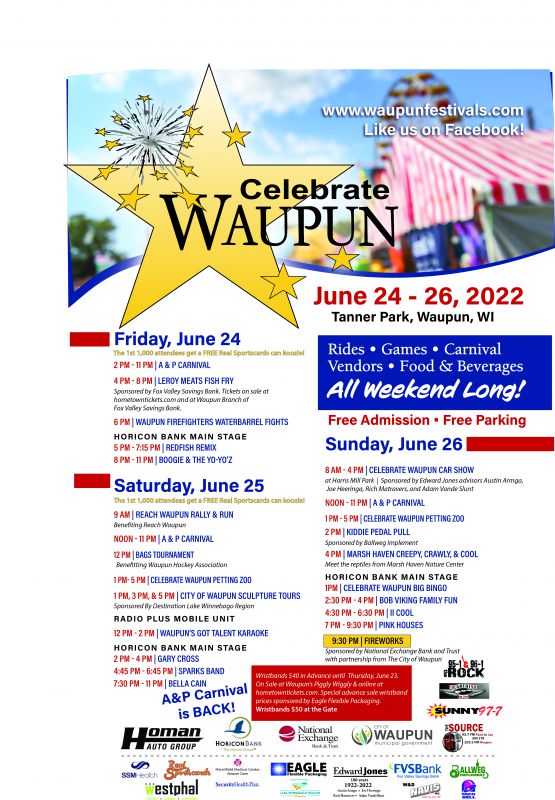 General Donation Opportunities
Waupun Festivals gratefully accepts donations of any monetary value. Donations may be sent to the following address:
Waupun Festivals, Inc
C/O City of Waupun
PO Box 507
Waupun, WI 53963
...or you may donate now, using the Donate button:
---
Waupun Festivals, Inc is a tax exempt charitable organization under section 501(c)(3) of the Internal Revenue Code. Contributions are deductible under section 170 of the Code. Waupun Festivals, Inc. is qualified to receive tax deductible bequests, devises, transfers or gifts under section 2055, 2106 or 2522 of the Code.
Thank you for supporting our efforts in making the Waupun community a great place to visit, live and do business!